Support your fertility treatment with acupuncture
Fertility-focused acupuncture treatment can complement your next IVF cycle by helping to balance your hormone levels and improve your fertility.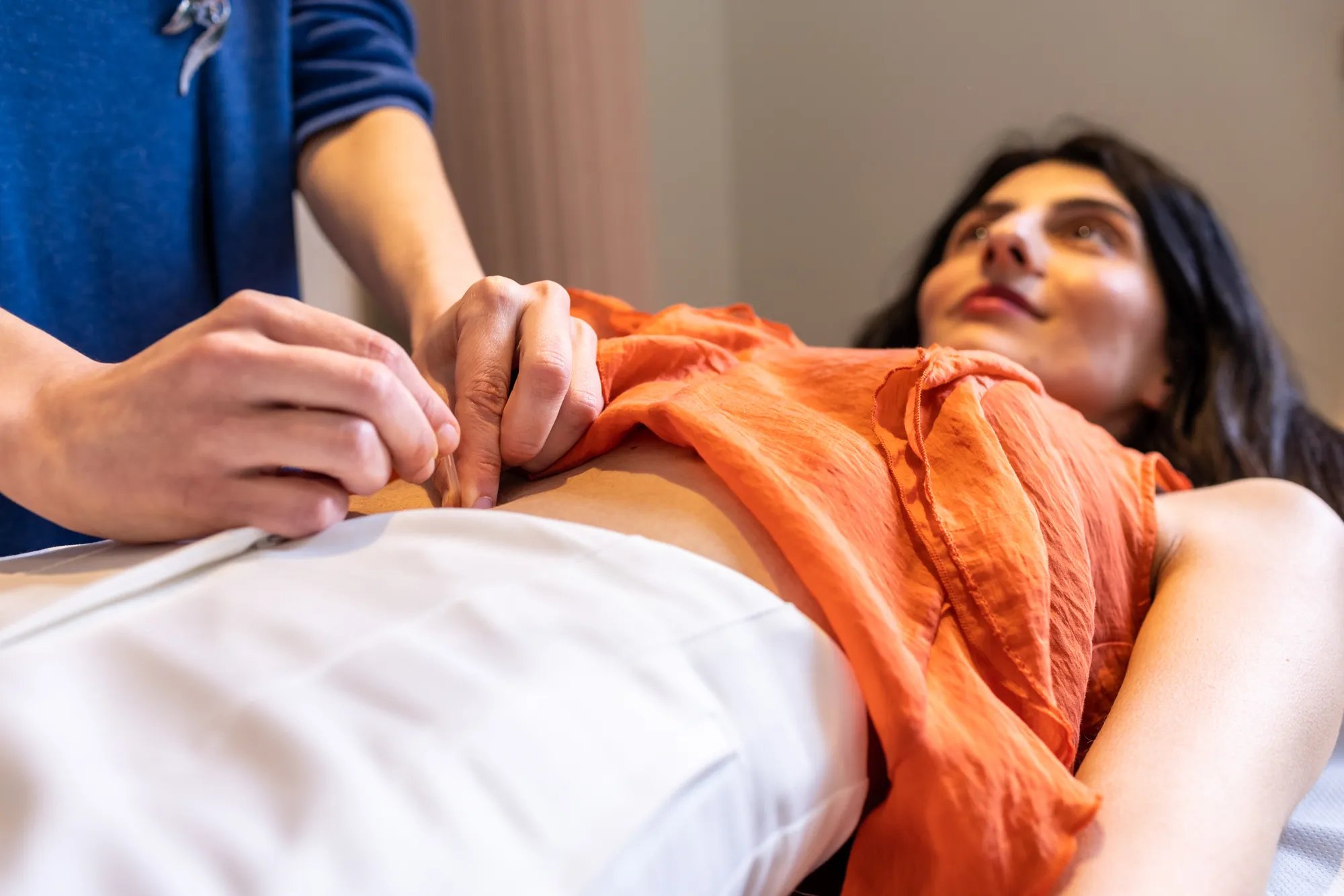 Help reduce stress and improve your overall wellbeing
Acupuncture is founded on the belief that the secret to a successful life — especially when creating a new one — lies in balancing our bodies so fertile ground can be created. This may involve removing blocks that make conception difficult. One of these blocks is stress, which is often amplified when conception repeatedly fails to happen. Then there's medication (e.g. for depression or epilepsy) which can affect fertility. Even catching a simple cold can affect ovulation.
Used as a holistic therapy, acupuncture can help address various health issues at the same time – issues that may be disrupting your body's natural balance and creating a state of infertility. When used around the time of embryo transfer, it can improve your overall wellbeing, and in turn, may give you a better chance of a successful outcome. If pregnant,
acupuncture may also help to treat issues such as morning sickness, heartburn and muscular aches.
Holistic support

Meet Maria
Maria Rossi is our Integrated Traditional Chinese Medicine and 5-Element Acupuncturist. With acupuncture Maria aims to address the root of the problem, while helping repair and re-align your body and mind's energies to restore balance and wellness.
Learn more
Learn more

Real stories from our clinic
Although everyone's fertility journey is unique, there is one thing our patients all share – the dream of becoming a parent. You can read about some of their personal stories and their experiences with us below.
See patient stories
See patient stories

Feel more informed
Fertility treatment can be confusing and sometimes even a little overwhelming, so we've put together a collection of useful blog articles and podcasts to help you navigate all the jargon and feel more informed.
See all
See all
Supporting information

Fertility Support
Fertility treatment can be challenging, so we've put together some helpful tips to support you on the journey ahead.
Fertility tips
Fertility tips

Counsellor
Supporting and nurturing your mind, body and emotional balance throughout the journey can be helped with an impartial counsellor.
Meet Mollie
Meet Mollie

Nutrition
Learn how to optimise your diet to increase your fertility levels with Nutritionist Dr Divya Manglam.
Discover More
Discover More